Secure Payment
System E-transactions via Paybox/Vérifone from Crédit Agricole
Poterie de la Madeleine uses the system E-Transaction by the french bank Crédit Agricole via Paybox.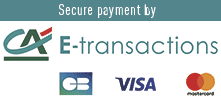 With the secured SSL E-transaction system, you can pay in complete security with all credit cards.
This system, using specific encoding technology, guarantees optimal confidentiality and security conditions.
At time of payment, you will be asked the register your credit card details.
These informations are instantaneously encoded on your computer before being sent directly to the Crédit Agricole via Internet. Thus, no confidential information cannot circulate uncoded on the network. In using this system, the Poterie de la Madeleine has no access to your banking information.